Activist Deletes Post Bragging About Christmas Tree Topped with Abortion Clamps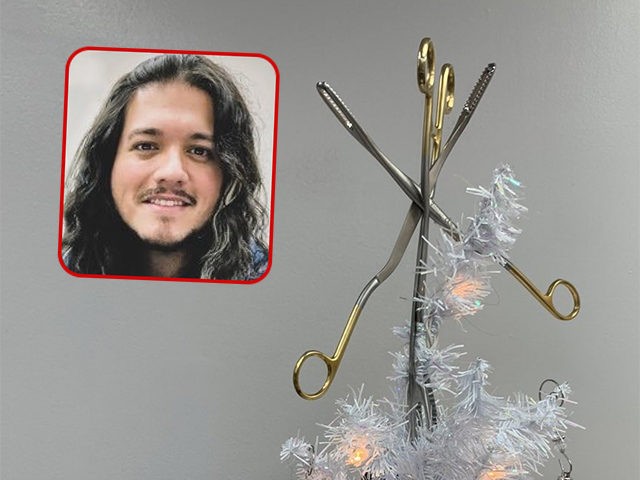 A pro-abortion activist posted, then deleted, a photo of an abortion clinic's Christmas tree topped with two Sopher clamps instead of the traditional star or angel during the 2020 Advent season.

"IT IS LITERALLY IMPOSSIBLE TO TOP OUR TOPPER," pro-abortion activist Michael Saenz bragged in the now-deleted tweet, which he ended with the hashtags #ProAbortion, #Abortions, and #Christmas.
WARPED: Abortion worker tops Christmas tree with clamps used to dismember preborn babies https://t.co/zao7HTppFU

— Live Action News (@LiveActionNews) December 10, 2020
Sopher clamps are used by abortionists performing second-term Dilation and Evacuation (D&E), or dismemberment, abortions, when the unborn babies are too large to simply be suctioned apart and out of the uterus.
Dr. Anthony Levatino, who once performed abortions but now is a pro-life activist, discusses the use of the Sopher clamp during this animated video describing D&E abortions:
Members of the pro-life community noted the disturbing combination of a Christmas tree with an instrument used to dismember unborn babies.
Podcast host and author Allie Beth Stuckey posted the tweet, noting Saenz "works for or supports 'Care Repro,' which specializes in abortion through 40 weeks of pregnancy."
This person works for or supports "Care Repro," which specializes in abortion through 40 weeks of pregnancy. It was founded by Leroy Carhart, who was recorded describing fully developed dead babies as coming out like "meat in a crockpot." https://t.co/GQk9gMLnrp pic.twitter.com/irZJTqFOL7

— Allie Beth Stuckey (@conservmillen) December 9, 2020
Read More Here: Breitbart