NBC News Hit Piece on Grassroots Parents Battling K-12 Critical Race Theory Draws Fire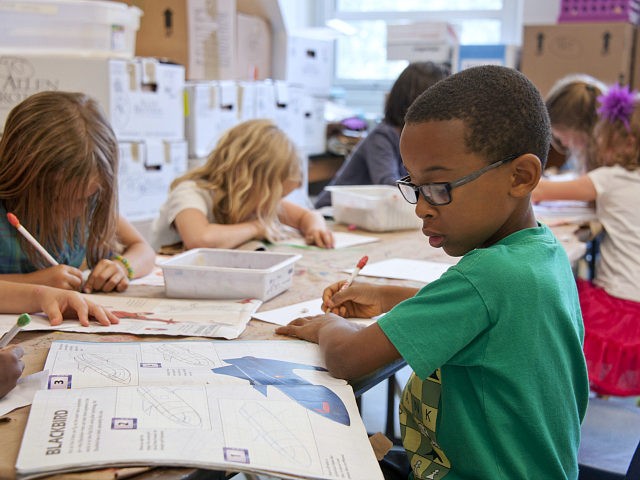 An NBC News hit piece on grassroots parents' groups battling Critical Race Theory (CRT) and woke education in K-12 schools has drawn a flood of criticism.
The piece, published Tuesday, titled "Critical Race Theory Battle Invades School Boards – with Help from Conservative Groups," was written by Tyler Kingkade, Brandy Zadrozny, and Ben Collins, and starts out by defining CRT as "the academic study of racism's pervasive impact."
NBC News is really upset that parents are fighting back against critical race theory

What's rlly happening is that the grassroots civic action that has bolstered leftist causes for years is being taken up by conservatives, the left doesn't like it one bit https://t.co/vemhv9uxOD

— libby emmons (@libbyemmons) June 15, 2021
The writers present as an innocent bystander in the push to teach the tenets of CRT in his Cumberland-North Yarmouth, Maine, school district, superintendent Jeff Porter, who referred, on the record, to vocal, anti-woke education parent Shawn McBreairty as "vile," and presented him with "conditions" he would need to meet before being permitted to attend his daughters' graduation:
To Porter, the issue was straightforward: The district had denounced white supremacy in the wake of George Floyd's murder by police, but did not teach critical race theory, the academic study of racism's pervasive impact.
I want to tell a quick story about Tucker Carlson, a small town in Maine, and a panic over "critical race theory" stoked with the help of Fox News and viral conservative websites.

— Ben Collins (@oneunderscore__) June 15, 2021
Porter's school district hired Community Change Inc., a Boston-based company that self-describes on Twitter as "a non-profit that challenges systemic racism with a special focus on white people."
"Can't dismantle white supremacy without dismantling capitalism," CCI states.
The district's "Equity Leadership Steering Committee" sent a statement out to the community that asserted:
We echo the words of the Women's Foundation of Minnesota: "In a culture that continually reinforces white supremacy, justice can only be achieved when we confront and repair the anti-blackness woven through every aspect of society—in our homes, schools, workplaces, communities, places of worship, and government."

…

We are continuing to partner with Community Change Inc. to guide us on this journey. We are actively learning that the supposed truths we've been socialized to believe about blackness are violent and untrue. We will work to assess our curriculum, educate our community within and outside of our school campus, dismantle the anti-blackness all of us have internalized by living in a society built on white supremacy, and provide tools to interrupt anti-black racism.
The NBC News authors appear unable to wrap their heads around the fact that K-12 parents across the country are filling their school board meetings, ousting school administrators and board members peddling woke education, and urging their state lawmakers to take action:
BREAKING: Texas @GovAbbott has just signed the legislation banning critical race theory indoctrination in public schools. Legislators, led by @Toth_4_Texas, have now protected 29 million Texans from state-sanctioned racism. This is a historic victory. pic.twitter.com/Uyi1zBfwEF

— Christopher F. Rufo ⚔️ (@realchrisrufo) June 16, 2021
Read More Here: Breitbart