Southwest Cancels 1,800 Flights Days After Pilots Fight Vaccine Mandates; Airline Claims 'Bad Weather'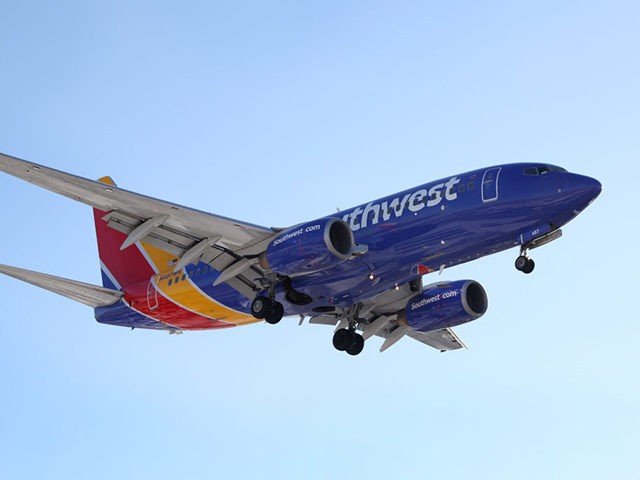 Just two days after the Southwest pilots union asked a federal judge to block the company's vaccine mandate, the airline canceled 1,800 flights this weekend, blaming bad weather.
"Southwest Airlines canceled more than 1,800 flights this weekend, disrupting the travel plans of thousands of customers and stranding flight crews, blaming the meltdown on a combination of bad weather, air traffic control and its own shortage of available staff," reported CNBC.
In a note to staff on Sunday, Alan Kasher, executive vice president of daily flight operations, said that the airline "did not anticipate" the series of disruptions that arose over the weekend.
"I know this is incredibly difficult for all of you, and our customers are not happy," said Kasher.
"Although we were staffed for the weekend, we could not anticipate the significant disruption that was created from unexpected ATC issues and bad weather across our Florida stations," he added.
The Federal Aviation Administration (FAA) said bad weather and staffing issues in Florida contributed to a "few hours" of flight delays on Friday afternoon at the Jacksonville Air Route Traffic Control Center, which "controls airspace in five parts of Alabama, Georgia, Florida, North Carolina and South Carolina," according to CNBC.
"No FAA air traffic staffing shortages have been reported since Friday," the FAA said. "Some airlines continue to experience scheduling challenges due to aircraft and crews being out of place. Please contact the airlines for details about current flight schedules."
No FAA air traffic staffing shortages have been reported since Friday.

Flight delays & cancellations occurred for a few hours Friday PM due to widespread severe weather, military training, & limited staffing in one area of the Jacksonville en route center.
(1/2)

— The FAA ✈️ (@FAANews) October 10, 2021
Chris Bianchi, a meteorologist out of Denver, told CNBC that he did not see the type of severe weather that would have caused massive flight delays. "Based on what I've seen, there didn't appear to be any high impact weather that would've significantly affected Southwest operations yesterday or today," he said.

ATC issues and disruptive weather have resulted in a high volume of cancellations throughout the weekend while we work to recover our operation. We appreciate your patience as we accommodate affected Customers, and Customer Service wait times are longer than usual. (1/2) pic.twitter.com/o1scQJ5lLb

— Southwest Airlines (@SouthwestAir) October 9, 2021
If you're a Southwest customer who's angry that your flight was cancelled:

Don't direct your anger at the employees, who aren't showing up for work.

Focus your attention on Southwest for mandating vaccines for a job employees were already doing.

— #ThePersistence (@ScottPresler) October 10, 2021
Southwest Airlines crews are walking out and so are FAA air traffic controllers. This is just the beginning.

— Buzz Patterson (@BuzzPatterson) October 10, 2021
Inflation will cost Americans nearly $2,100 extra this year.

When Joe Biden says he's not raising taxes on working class Americans… he already has.

— Lauren Boebert (@laurenboebert) October 10, 2021
Joe Biden's illegal vaccine mandate at work!

Suddenly, we're short on pilots & air traffic controllers.#ThanksJoe https://t.co/wviOzLt7Iv

— Ted Cruz (@tedcruz) October 10, 2021
>
Southwest is cancelling flights and blaming the weather because their employees are saying NO to the authoritarian vaccine mandate.

🔥 Hold. the. line.

— Jordan Rachel (@TheJordanRachel) October 10, 2021
Southwest Airlines employees might have just sparked a rebellion to save humanity from tyranny. It is yet to be seen but if more of this happens.. we have a chance at avoiding the dark age being engineered

— Melissa Tate (@TheRightMelissa) October 10, 2021

Can confirm: class-action is about to drop from thousands of Air Traffic Controllers. There's roughly 15,000 of us, and ~6,000 have yet to get a 💉 https://t.co/0d5xGoWdQG

— Always Tired (@Tactual55) October 11, 2021
Amtrak crews getting involved

— Jack Posobiec ☦️ (@JackPosobiec) October 10, 2021
Read More Here: Breitbart