'We are so divided now': how China controls thought and speech beyond its borders
It was a pleasant, breezy day in late September 2020 when the FBI showed up outside the home of a man named Baimadajie Angwang. Angwang, who lived in Long Island with his wife and two-year-old daughter, was a community liaison officer with the New York police department, where his role was to build relations with the neighbourhood in the 111th precinct in Queens. He had arrived in the US in 2005, a 17-year-old asylum-seeker from a Tibetan enclave in China. He joined the marines in 2009 and served one tour in Afghanistan. And then, in 2019, he showed up at the Tibetan Community Center in Queens.
He wanted to be part of the community, Angwang told people. He was there to help Tibetan immigrant youth. He was also, according to the charges against him, in regular contact with two members of the Chinese consulate. "Let them know," he had told a consular official in November 2018, "that you have recruited someone in the police department."
Certainly, if he was a spy, as charged, he wasn't a very good one. According to the documents that outline the charges against him, he contacted consular officials on his personal mobile phone, placing calls while FBI officials were listening in. In the recordings released to the court, Angwang flatters and brags. "I'm thinking, the whole world is promoting diversity," he tells a man referred to as PRC OFFICIAL-2, suggesting they approach minority groups in the Tibetan community to recruit informants. Angwang tries to convince the official to get him a visa to go back and visit China. Other informants will want them, he says. They will think the PRC doesn't appreciate them. Especially, he says, the "100%-type" – the real believers. "It is hard to find people like us," he complains. "So enthusiastic."
Enthusiasm aside, Angwang seemed to have little real intelligence to offer. The charges filed shortly before he was taken into custody testify to his relatively lowly status. He is facing allegations of wire fraud, making false statements and of acting as an unregistered foreign agent: a section of the US criminal code widely known as "espionage light". Of the many questions raised by Angwang's case, perhaps the most striking is why the Chinese consulate would have bothered talking to him at all.
In the past nine years under Xi Jinping's leadership, the Chinese Communist party (CCP) has thrown itself into what Freedom House, a US-based human rights NGO, calls "transnational repression". Every arm of the PRC government has been called upon to join in the work of influencing opinions, stifling speech and controlling dissent within and beyond its borders. In a tally of direct physical attacks originating from China since 2014, a recent Freedom House report uncovered 214 incidents in 36 different countries, from abductions in Thailand to physical assaults in Canada – far more than any other country in the study.
More numerous than these blatant attacks are the incidences of harassment and intimidation. Exiles and activists all over the world have reported threatening phone calls and cyber-attacks; Chinese students studying in the UK and Australia have reported being threatened and harassed if they criticise the PRC; in California, a man was apprehended driving a car made to look like a Chinese police vehicle through an immigrant neighbourhood; police officers in the PRC frequently make calls to exiles using their relative's phones ("You must bear in mind that all your family and relatives are with us," a Chinese officer told one Uyghur exile from China's Xinjiang province). "China conducts the most sophisticated, global, and comprehensive campaign of transnational repression in the world," reads the Freedom House report. Of the groups targeted for repression, Tibetans in exile have long been the object of special attention.
Globally, there are about 150,000 Tibetans living outside China's borders. It's a small group with an outsized international voice, partly thanks to their charismatic leader, the Dalai Lama. The People's Republic of China took control of Tibet in 1950, and the Dalai Lama escaped to Dharamshala, India, in 1959, where he set up the Tibetan government in exile. Ever since, the Tibetan diaspora has been growing and the PRC has viewed the Tibetan people – with their allegiance to a leader outside the Communist party system and an independence movement with global support – as a dangerous enemy.
One of the biggest Tibetan diaspora communities outside Dharamshala is in and around New York City, where an estimated 15,000 Tibetans live. In Jackson Heights, Queens, Tibetan restaurants and groceries line the streets around the Roosevelt Avenue subway station. There is a community centre, opened in 2019, a temple and a school for Tibetan language and culture. Along a stretch of 74th Street that is hung with strings of lights, Tibetan and Nepali restaurants share sidewalk space, prayer flags flutter, and a discount shop is named Namaste.
Angwang's arrest seemed to confirm what the Tibetan community had long suspected: that the Communist party of China is watching them. Tibetans in New York applying for visas to visit China are directed to a separate entrance to the PRC consulate in the city, where an official – usually of Tibetan descent – meets them for an extensive interview. They are asked to write a biography, listing all their friends and family in Tibet, along with their jobs, addresses and contact information. Many worry that their applications could harm loved ones in China. They fear their daily activities are documented and tallied. Some applicants have been shown photos of themselves attending a protest, or a teaching led by the Dalai Lama. In one case, a visa applicant in San Francisco found that the interviewer knew the name and breed of their dog.
"We go between overestimating and underestimating the threat (of surveillance)," said Tenzin Dorjee, a PhD student in political science at Columbia and one of the most recognisable faces in New York's Tibetan community. Dorjee goes by the name Tendor – many Tibetan boys are given one of the Dalai Lama's names (he has seven), so nicknames are common. Tendor was the child of Tibetan exiles in India and moved to the US as a teenager. He spent four years as the director of Students for a Free Tibet, where PRC surveillance was considered a given.
Tendor has watched as paranoia has grown in his community. Tibetans, he believes, are brave, but in the last decade the PRC has managed to exploit their vulnerabilities: their ties to family and friends still in China, and their hopes of obtaining visas to visit Tibet. The PRC has sowed divisions and left Tibetans in exile frightened and suspicious of each other. "You can basically have no spies in the community," Tendor told me, "as long as you create the perception that there are spies in the community."
---
Not long after Angwang's arrest, I met Tendor at a restaurant in Jackson Heights. It was a cold November night and when I arrived, he was sitting outside with two friends, beers on the table in front of them, hats on their heads. Tendor wears rectangular glasses and has a narrow face. A man named Lobsang Tara sat next to him, a mask hanging from one ear, and across the table, the current head of Students for a Free Tibet, Dorjee Tseten, was leaning forward over his empty plate, hands in his pockets. The community was in uproar. Tara was wondering if Angwang really was Tibetan at all. He had met Angwang at a restaurant one night a few months before the arrest. Angwang didn't look Tibetan, Tara said – he was too pale. He didn't act Tibetan. ("We're more … disordered," Tara told me.)
Across Queens, Tibetan groups were rushing to distance themselves from the alleged spy. "The way he spoke!" Tara said. "Not one clean word of Tibetan came out of his mouth!"
A few weeks earlier, the Tibetan Community Association of New York and New Jersey had held a press conference to explain why Angwang had been attending their meetings. "We knew he was a pro-communist type of guy," one board member of the association told me. "But we never suspected he could be a spy." When the New York Post contacted the former head of the board – a man named Sonam Gyephel – he protested that they had shared nothing important with Angwang. "We didn't give any information to him," said Gyephel. "We gave him nothing. Nothing."
Tendor had crossed paths with Angwang once, at the 2019 Losar, or Tibetan New Year, celebration held at the Tibetan Community Center in Queens. That night the guest of honour had been Alexandria Ocasio-Cortez, the new congresswoman representing Queens, and she had been photographed with Angwang, playing with his baby daughter, the two of them wrapped in a single ceremonial white scarf. Now people wanted to know how the community leaders had allowed an alleged spy to sit next to a congresswoman. ("She was bored and went to go play with the baby," Tendor said. "Sometimes these community events can drag on.") People had read the FBI affidavit and seen the references to their celebrations, the minority groups in their midst, and the places where they spent time. It was chilling to see their community dissected and discussed like a puzzle to be solved. "They knew us," Tendor told me.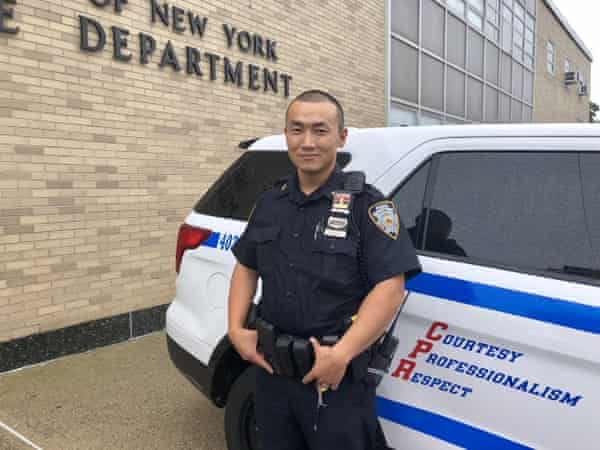 Baimadajie Angwang.

Photograph: Inty/Twitter

Despite all the stories circulating about encounters with Angwang – short conversations in broken Tibetan, brief meetings in restaurants and at local events – few people in the community knew much about him. The handful of Tibetans who knew Angwang well had met him some time ago. No one I spoke with wanted their names associated with the alleged spy, but they painted a picture of a stocky, muscular young man who was full of bravado. He flashed money clips and bragged about his parents' success in China. He was also struggling to adapt to his new home.

According to court documents, Angwang was born in the lowlands, below the Tibetan plateau and outside the Tibetan Autonomous Region, in an area of China's Sichuan province known as Zitsa Degu in Tibetan, or Jiuzhaigou in Mandarin. It's a place of natural beauty where Chinese tourists come to spend their holidays hiking to waterfalls. It was also part of the Tibetan region where, in 1956, the first uprisings were staged against communist rule. Today, however, the economy in the area is controlled by ethnic Han Chinese and the demographics have changed. "His town is already 80% Chinese," one of Angwang's early acquaintances told me. And because the Tibetan population is small, crackdowns are rare. "It's culturally part of China," the friend said. "They feel confident about it and go easy on it."

Ethnic Tibetans from this area speak a local dialect, and their complexion is different from that of Tibetans living on the plateau. So, people would later argue, it was not so strange that Angwang would not speak standard Tibetan, and unsurprising that he looked a little different. Angwang went to high school in Chengdu, the capital city of Sichuan province. "He said his teachers and classmates would taunt and exclude him," one of his acquaintances told me. "They'd say things like 'Tibetans are dirty'." Angwang would get so angry that he would take off his clothes and dare them to smell him. In his 2005 asylum application, Angwang said he had been imprisoned unlawfully in Sichuan. He said he had been targeted because of his ethnicity, and that he had been tortured while in jail.

Angwang approached the Tibetan Community Association of New York and New Jersey sometime in November 2018. He had called Gyephel's cell phone (which was the number listed on the association's website) and offered a refrain that he would repeat until his arrest: he worked for the NYPD, he was concerned about the state of Tibetan youth in the city, and he was there to help. He didn't speak much Tibetan, but the board didn't ask. Here was a Tibetan man in a uniform – a story of success and acceptance in the US.

"We don't want to get stuck in our own small community," a former board member told me, trying to explain why they welcomed Angwang in. "We want to be part of the larger city. We want to get connected with everybody."



---
According to the Freedom House report, the PRC's influence campaigns abroad target ethnic minorities and dissidents on a global scale unmatched by any other nation. Their activities, it reports, are best understood as functions of the United Front Working Department (UFWD), a nebulous part of China's bureaucracy that oversees all activities aimed at influencing groups not directly controlled by the CPC, inside China and out. These can be civil society organisations, media groups, academics, dissidents or Uyghurs from China's Xinjiang region. They can also be Tibetans. The official on the other end of the phone with Angwang in the FBI recordings was a member of the China Association for Preservation and Development of Tibetan Culture – a group overseen by the United Front.
Under President Xi, the United Front Working Department has been in the ascendant. In September 2014, borrowing a term from Mao, Xi called united front work a "magic weapon", and launched an effort to reform and increase its power. United Front Work, Xi has said, will help to unite the Chinese people under a single worldview and in a common cause.
The United Front aims to influence Chinese citizens and foreigners, its methods including intelligence gathering, silencing dissent, and cultural exchange. The agencies involved in united front work include the propaganda department and the ministry of education. "Xi Jinping has emphasised that 'the United Front is about working on people,'" wrote Alex Joske of the Australian Strategic Policy Institute in a 2020 report titled The Party Speaks for You. "Co-opting and manipulating elites, influential individuals and organisations is a way to shape discourse and decision-making." Teng Biao, a human rights lawyer and scholar living in New Jersey, puts it another way: "They don't want to hear any criticism and they don't want to see independent civil societies which are out of control," he told me. "They are sending the message that they are everywhere. Nowhere is out of reach."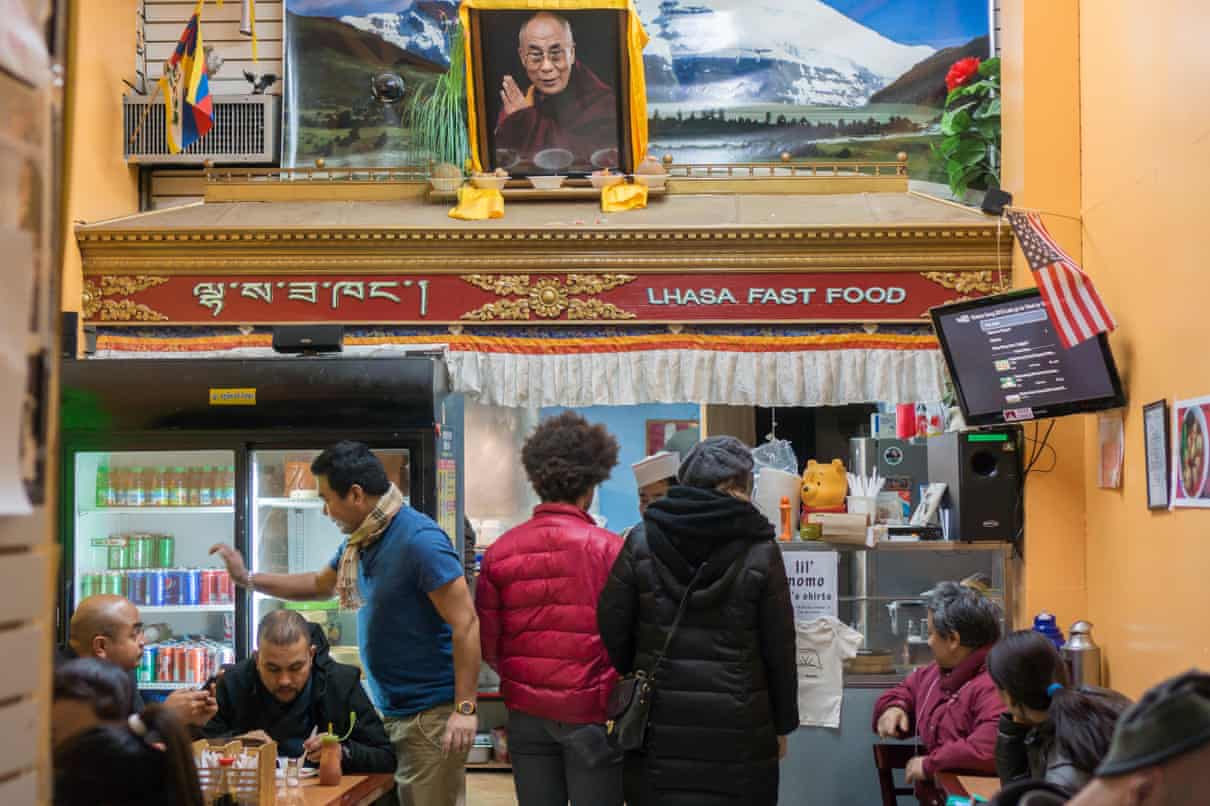 A

Tibetan restaurant in the Jackson Heights neighbourhood of Queens, New York.

Photograph: Richard Levine/Alamy

Read More Here: The Guardian