Foxconn lockdown shows risks of China dependence, analysts say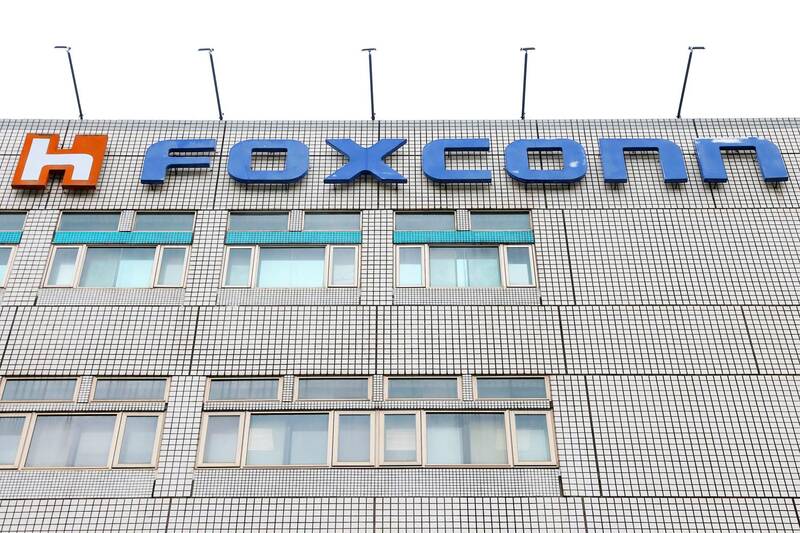 OUTPUT LOSS:

A heavy dependence on China invites operational risks, especially as the US-China trade dispute shows no sign of being resolved, a consulting firm said
The lockdown of Foxconn Technology Group's (富士康科技集團) Zhengzhou factory, which is the world's largest producer of iPhones, has highlighted some of the risks of relying on China's manufacturing sector amid its 'zero COVID' policies, analysts said.
Foxconn — known as Hon Hai Precision Industry Co (鴻海精密) in Taiwan and Apple Inc's principal subcontractor — has seen a surge in COVID-19 cases at its Zhengzhou site, leading the company to lock down the vast complex in a bid to keep the virus in check.
Images soon after emerged of panicking workers fleeing the site on foot in the wake of allegations of poor conditions at the facility, which has hundreds of thousands of employees.
Foxconn is China's largest private-sector employer, with more than 1 million people working across the country in about 30 factories and research institutes.
However, Zhengzhou is the Taiwanese giant's crown jewel, churning out iPhones in quantities not seen anywhere else.
"In a normal situation, almost all the iPhone production is happening in Zhengzhou," Counterpoint analyst Ivan Lam (林科宇) said.
Apple manufactures more than 90 percent of its products in China, which is also one of its most important markets.
"For Apple, it is once again a bad example in terms of the stability of production chains," Natixis SA Asia-Pacific manager Alicia Garcia Herrero said.
The company's heavy dependence on China "brings potential risks, especially when the US-China trade war shows no signs of de-escalating," consulting firm Dezan Shira and Associates said.
Opened in 2010, the Zhengzhou factory employs up to 300,000 people who live on-site throughout the year, creating a sprawling tech hub known as "iPhone city."
It is made up of three factories, one of which produces the iPhone 14 — Apple's newest handset model.
Lam said that the partial stopping of work at the site resulted in a loss of "10 to 30 percent" of output, adding that part of the production has been temporarily moved to other Foxconn sites in China.
The site is currently operating a "closed loop" with the workers avoiding all contact with the outside world, while their daily bonuses have been quadrupled, Foxconn said.
"This incident may have a limited impact," on worldwide iPhone production, said TF International Securities Group Co (天風國際證券) analyst Kuo Ming-chi (郭明錤), who specializes in Apple products.
"But suppliers in China must learn to improve closed-loop production efficiency in response to the 'zero COVID' policy," he added.
China is the last major economy committed to a 'zero COVID' strategy, persisting with snap lockdowns, mass testing and lengthy quarantines in a bid to stamp out emerging outbreaks.
Highly transmissible variants have tested local officials' ability to contain outbreaks faster than they can spread, causing much of the country to live under an ever-changing mosaic of COVID-19 restrictions.
Before the COVID-19 pandemic, Apple had begun outsourcing part of its production to India, and is considering Vietnam in a bid to wean itself off Chinese manufacturing. The pandemic accelerated the process.
The transition could take a while. Last year, nearly 7.5 million iPhones were made in India, just 3 percent of Apple's total production.
"Increasing the capacity of factories [in India] is difficult," Lam said.
Source: Taipei Times