Politicians and journalists react with horror as Thomas Kemmerich is elected Minister President of Thuringia thanks to the AfD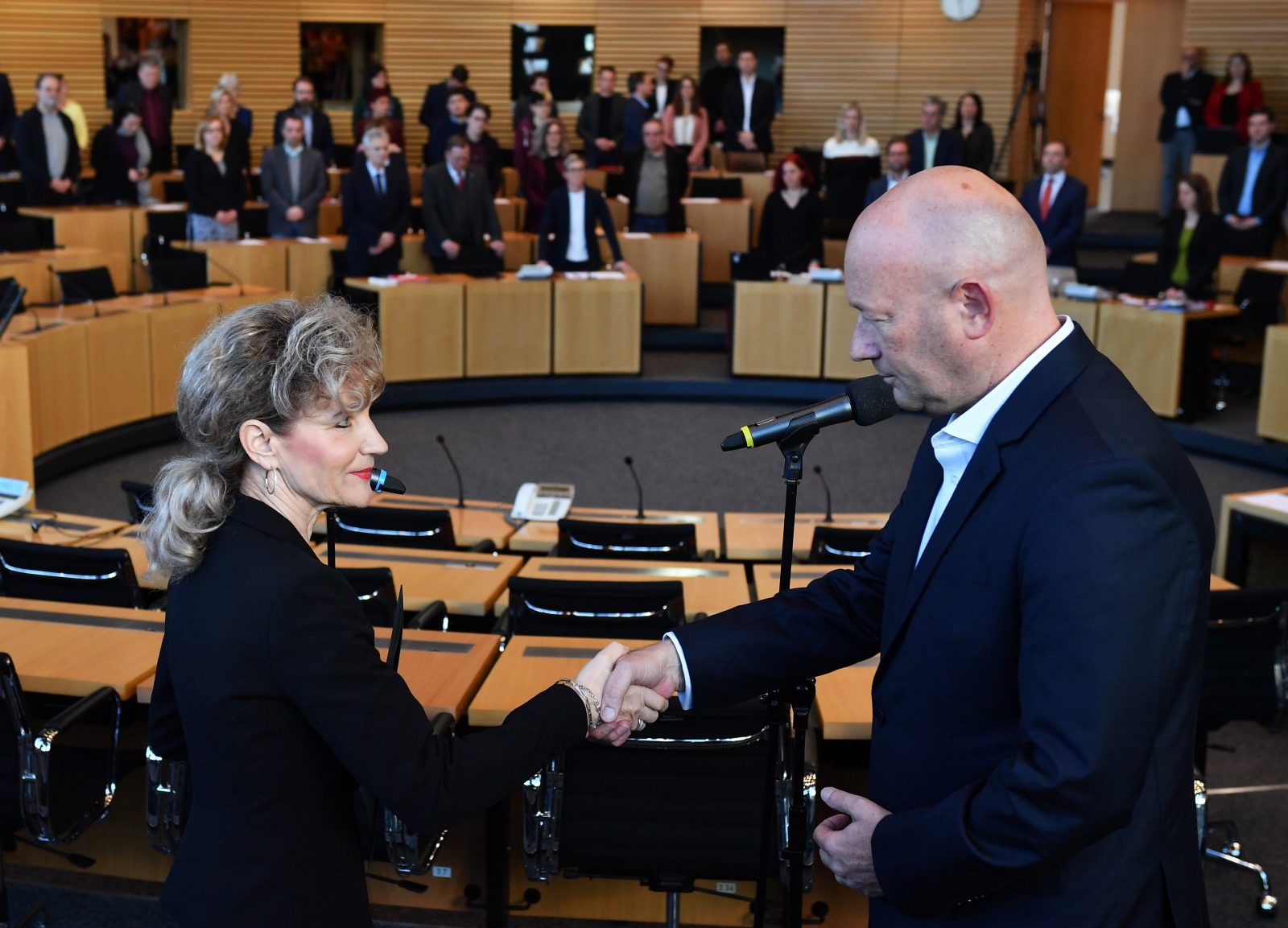 ERFURT. The FDP parliamentary group leader Thomas Kemmerich has been surprisingly elected Minister President of Thuringia with the help of AfD. Kemmerich received 45 votes, the previous Minister President Bodo Ramelow came to 44 votes with one abstention.
"This is the first time in the history of modern Germany that a state premier has been elected into office with AfD votes," Erfurt political scientist André Brodocz told German broadcaster MDR on Wednesday.
The AfD's own candidate received zero votes, indicating the party's state legislators aligned as a bloc behind Kemmerich.
While the vote was secret, the liberal candidate must also have enjoyed support from lawmakers belonging to Chancellor Angela Merkel's conservative CDU, as well as his FDP stablemates.
In total, the opposition parties of the CDU, FDP and AfD have 48 seats in the state parliament – six more than the minority coalition.
Media were quick to describe the event as a "political earthquake", as mainstream parties had so far refused to countenance working with anti-immigration, anti-Islam and anti-EU AfD at any level.
Ramelow received 43 votes in the first ballot and 44 votes in the second ballot. 46 would have been necessary for an absolute majority in both ballots. Kemmerich did not run in the first two ballots. Deputy leader of the AfD parliamentary group, Stefan Möller, justified Kemmerich's election saying there is a "reason for the state" and that for the AfD "first the country, then the party, then the person."
The party leader of the Left Party, Susanne Hennig-Wellsow, refused to congratulate Kemmerich, did not shake his hand and threw the bouquet of congratulations at his feet.
— Parents For Future (@parents4future) February 5, 2020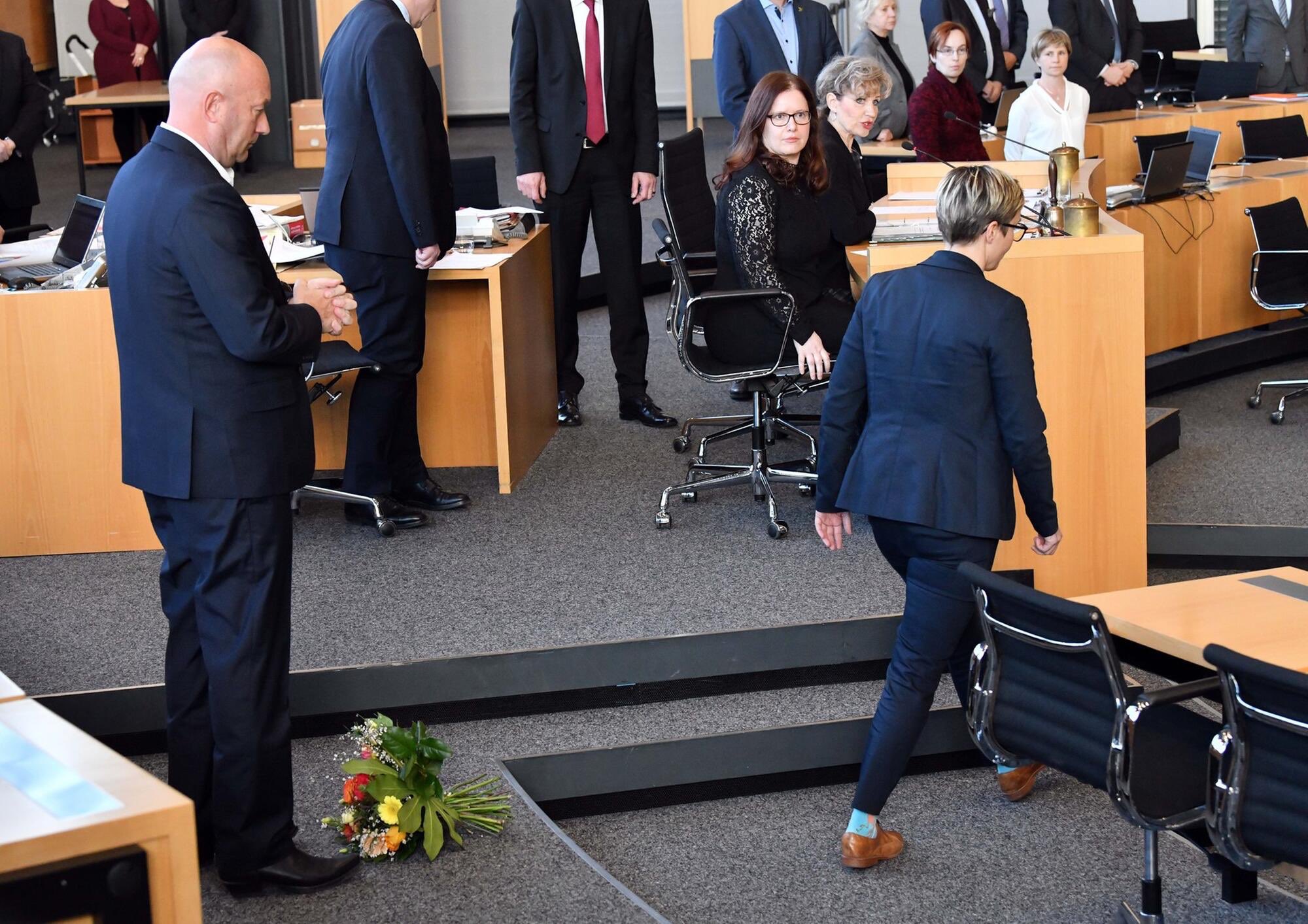 Source: Twitter.
More reactions
The surprise result led to anger on social media. The hashtag #Thüringen was trending on Twitter on Wednesday.
Retired German footballer Hans Serbei:
Ein trauriger Tag für Deutschland. Das erste Mal seit dem Krieg helfen Nazis einem Ministerpräsidenten ins Amt. Ich bin sprachlos.

#Thüringen

— Hans Sarpei (@HansSarpei) February 5, 2020
"A sad day for Germany. For the first time since the war, Nazis help a prime minister into office. I'm speechless. #Thüringen"
— DIE LINKE (@dieLinke) February 5, 2020
"#FDP and @c_lindner: Better to rule with fascists than not to rule. #MPWahl#Kemmerich#CDU#Thüringen"
Guy Verhofstadt, Member of the European Parliament from Belgium, compared Björn Höcke (AfD) with Hitler:
— Guy Verhofstadt (@guyverhofstadt) February 5, 2020
Katrin Göring-Eckardt (the Greens):
Unfassbar! Die heutige Wahl von

@KemmerichThL

zum

#Ministerpräsidenten

mit Stimmen der AfD ist kein Unfall, sondern ein bewusster Verstoß gegen die Grundwerte unseres Landes. Mit Feinden der Demokratie lässt sich keine Zukunft für

#Thüringen

gestalten.

— Katrin Göring-Eckardt MdB (@GoeringEckardt) February 5, 2020
"Incomprehensible! Today's election of @KemmerichThL as # prime minister with AfD votes is not an accident, but a deliberate violation of the basic values of our country. With enemies of democracy, no future can be shaped for # Thuringia"
Journalist Mohamed Amjahid accused FDP of being "Höcke pig":
February 5, 2020
Tim herden, journalist from "MDR Aktuell":
Unfassbar! Die

@fdp

macht gemeinsame Sache mit der

@afd

und

@KemmerichThL

lässt sich vom Flügel der AfD ins Amt des Ministerpräsidenten wählen. Sicher ist das Demokratie. Trotzdem ziemlich erschreckend. Genscher wird sich im Grabe rumdrehen.

— Tim Herden (@HerdenTim) February 5, 2020
"Incomprehensible! The @fdp makes common cause with the @afd and @KemmerichThL can be elected from the wing of the AfD to the office of prime minister. That is certain democracy. Still pretty frightening. Genscher will turn around in the grave."
...and finally the Ocasio Cortez from Germany, Sawsan Chebli (SPD):
Erst kam die

@AfD

in unsere Landesparlamente. Dann in den Bundestag. Für alle Demokraten galt: keine Kooperation. Jetzt machen

@fdp

und

@CDU

mit der Partei aus Faschisten und Nazis gemeinsame Sache. Was kommt als Nächstes? Wohin steuert unser Land? Mir ist kotzübel.

#Thüringen

— Sawsan Chebli (@SawsanChebli) February 5, 2020
"The @AfD first came to our state parliaments. Then to the Bundestag. For all Democrats, there was no cooperation. Now @fdp and @CDU are joining forces with the party out of fascists and Nazis. What's next? Where is our country heading? I feel very sick. #Thuringia"
Sources:
Junge Freiheit
Tichys Einblick