Exclusive: Chinese State Media Fabricated Article From Former UK Cabinet Minister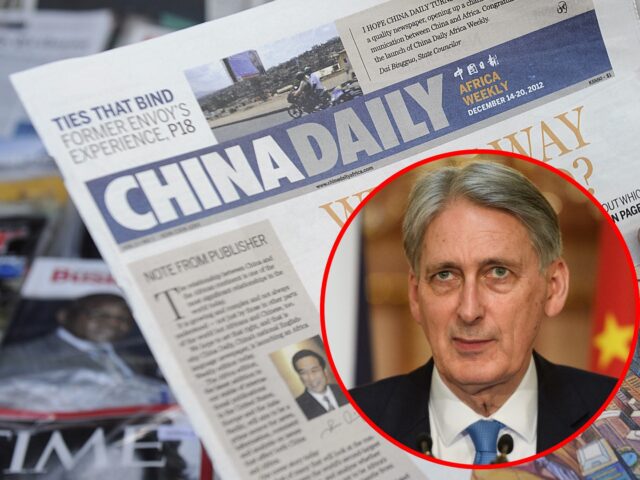 A top propaganda mouthpiece for the Chinese Communist Party fabricated an article which they falsely attributed to former UK Chancellor Lord Philip Hammond, the senior Tory's office has told Breitbart London.
Last week, the state-owned China Daily, a top English-language international propaganda outlet for the regime in Beijing, ran an article purporting to have been written by Philip Hammond, who served as the Chancellor of the Exchequer, the top finance position in the British government, under former Prime Minister Theresa May.
The now-deleted article falsely attributed to Hammond was in fact a hodgepodge of outright fabrications and an amalgam of comments made by the former government minister at a speech made in London earlier this month focussed on expanding economic ties between China and Britain.
In a statement provided to Breitbart London, a spokesman for Lord Philip's office said: "Philip gave a speech to a business audience about China-UK relations. He certainly didn't write a piece for China Daily, so it's frankly bizarre that they would take his words and try to pass them off as their own op-ed. We complained, and thankfully now they've corrected the error."
Hammond's spokesman also told this publication that the former chancellor had also received a personal apology from the editor of the China Daily newspaper. Breitbart London has contacted the state-run paper for comment.
Former PM David Cameron Lobbied UK Govt on Behalf of $1 Billion Chinese Investment Fund: Report https://t.co/bjJSQwbvoX

— Breitbart London (@BreitbartLondon) April 26, 2021
The fake article drew considerable pushback, particularly for a section in which the CCP outlet had him call for economic relations between China and the United Kingdom "return to business as usual". However, a transcript of Hammond's speech, which was provided in full to Breitbart London, showed that the quote was in reality discussing the ability to meet in person after years of disruptions caused by the Chinese coronavirus.
Yet, while that specific quote was taken completely out of context in the fraudulent article, Lord Philip did in fact express a similar sentiment in his speech, saying: "Let us commit again tonight, that UK-China trade will flourish in the post-Brexit future. And let us, here in the UK, also re-commit to the openness, fairness and stability, which have attracted so many foreign investors in the past – Chinese and others – to our shores."
"Many of our global partners have been quietly increasing their share of trade with China – while we have seen ours stagnate over the pandemic period. Time, now, to roll the sleeves up and get that market share climbing as business returns to normal," he added.
'Money, Money, Money!' — Farage Accuses British Elites of Covering up Chinese Takeover https://t.co/BsrbGTnRM4

— Breitbart London (@BreitbartLondon) February 27, 2021
The speech was delivered at an event in London hosted by the Chinese Chamber of Commerce in the UK, the China-British Business Council, and the controversial and secretive 48 Group Club, which has long lobbied for closer economic ties between the communist nation and the United Kingdom.
According to the 2020 book, Hidden Hand: Exposing How The Chinese Communist Party Is Reshaping The World, the group serves as a conduit "through which Beijing grooms Britain's elites".
"So entrenched are the [Chinese] influence networks among British elites that Britain has passed the point of no return and any attempt to extricate itself from Beijing's orbit would probably fail," the book added.
The 48 Group Club, which denied the claims of the book, boasts two former deputy prime ministers as its patrons, Lord Michael Heseltine of the Conservative Party and Lord John Prescott of the Labour Party. The group also claims that former Prime Minister Tony Blair serves as an honorary fellow, however, Blair claims that he only attended one meeting of the group.
Lord Philip Hammond is not listed among the members of the group.
The former chancellor's speech at the London event hosted by the group can be read in full here:
Thank you, Sherard, for that introduction. I'd like to think of myself as "the former Chancellor" but unfortunately, I am now merely "the former Chancellor but five".
I believe shares in "Bishops Move" reached an all-time high in late 2022. Actually, I hear that following the events of the last 9 months, Tory Backbenchers who have never been a Minister at all now command a scarcity premium on the speaking circuit (yes, there are one or two!).
Don't ask me to recite the list of my successors in No. 11, but I am very happy to endorse the current Chancellor, my friend and long-time colleague Jeremy Hunt.
It is no coincidence, I am sure, that someone with such a distinguished naval family background should have demonstrated such a steady hand on the tiller in his first 4 months in office.
Your Excellency, My Lords, Ladies and Gentlemen, I am delighted and honored to have been asked to speak at this event tonight as a celebration of Chinese New Year… and as a timely reminder to ourselves, in the face of a great deal of noise to the contrary, of the value and importance of the UK-China economic partnership.
It is a fitting demonstration of the return to "business as usual" – now in both economies – that we are meeting tonight in person. That return to Business as Usual marks a perfect moment to take stock of the state of the bilateral trade and investment partnership… in the context of the damage wrought by the Covid pandemic; the changes brought about by Britain's departure from the EU; and the further deterioration that we have seen in global trade and economic connectivity.
And as we do so, it is surely greatly auspicious that we should have the good fortune in this Year of the Water Rabbit to have a Chinese Ambassador to the Court of St James' who is, himself, a Water Rabbit.
Mr. Ambassador, [thank you for your remarks] [we very much appreciate the thoughts you have just shared with us]. My predecessor as Chancellor, George Osborne, ensured that the Treasury was effectively running the UK's China policy during his watch… an approach that may have grated slightly when I became Foreign Secretary in 2014… but one that I was only too happy to endorse when I, in turn, became Chancellor two years later… picking up the baton from him and continuing the strengthening and deepening of that reinvigorated relationship that he had started.
The UK-China trade relationship does not, of course, exist in a vacuum… and the background noise to that relationship over the last three years has been, as Sir Humphrey might have said, "challenging".
But the facts remain the facts: China is the world's second largest economy, the UK's 6th largest export market… and our 4th largest trade partner overall. And here's another fact: for all the noises we hear, many of our global partners have been quietly increasing their share of trade with China – while we have seen ours stagnate over the pandemic period. Time, now, to roll the sleeves up and get that market share climbing as business returns to normal.
Those of us who are committed to strengthening UK-China trade links (and I am certain that includes everyone in this room) are, for the most part, realists: We understand that two countries with such different histories, cultures, political systems and national aspirations, are bound to have differences of view… sometimes, major differences of view.
But we also share common interests in free trade, promoting an interconnected global trading system, securing our energy supplies and ensuring the integrity of our vital shipping routes. Political differences have never been, and must not become, an impediment to Britain's trade.
The UK's history is one of trade-led diplomacy. A "Trade First" approach. Aren't we, after all, the nation which sold boots to the Napoleonic armies we were fighting and, ultimately, defeating? You can't get much more "Trade First" than that!
Quite honestly, if we only traded with people with whom we have no political differences, we could close half of our ports. And, while we are very much focused here this evening on trade and investment, it is not only about economics.
As we begin to address the challenge of climate change, China will be our indispensable partner in the battle against global warming… a battle which literally cannot be won without China's wholehearted commitment.
So let us recognize honestly and openly that there are political differences between our two nations… and then let's re-double our commitment to growing our bilateral trade and investment… working together to address climate change and energy security… and building our people-to-people contacts to increase mutual understanding of our so-very-different cultures.
The basis of all sustainable trade is, of course, mutual benefit. China's entry into the global economy four decades ago had a profound and beneficial effect on the living standards of ordinary people across the developed world, including the UK.
Foreign direct investment in China, including from the UK, helped China to deliver a growth miracle… that in turn fueled an unparalleled non-inflationary boom in consumption in the developed world… as well as lifting hundreds of millions of Chinese out of absolute poverty.
And today, as British firms seek opportunities in China's gradual opening of its financial services sector to foreign capital and know-how… it is Chinese consumers and businesses that will reap the benefit of competition driving productivity and raising the game of domestic Financial Services participants. Genuinely a "win-win" formula.
And as China's middle class resumes its meteoric expansion… creating sustained growth in demand for imported high-end consumer products and retail financial services… British businesses must seek out and fulfill that demand;… must seize those opportunities… and must be encouraged to do so by those in positions of influence and power.
Post-Brexit Britain has not yet set out its plan for the future;… has not yet articulated how it will earn its living and maintain its prosperity. But I do know this: there is no credible plan for a prosperous future for a trading nation the size of the UK that involves turning its back on the world's second largest economy.
So, let us focus not on what divides us, but on what unites us: On making the case for free and fair trade;
on encouraging mutual openness to investment; on working together to combat climate change.
Let us commit again tonight, that UK-China trade will flourish in the post-Brexit future. And let us, here in the UK, also re-commit to the openness, fairness and stability, which have attracted so many foreign investors in the past – Chinese and others – to our shores.
Please, join me in raising a glass to the UK-China economic partnership – may it grow stronger and more resilient in the Year of the Water Rabbit. Thank you.
Source: Breitbart