Indian PM Modi at G20 Meeting: 'Global Governance Has Failed'
Indian Prime Minister Narendra Modi told an assembly of top diplomats from the member countries of the G20 on Thursday that "global governance has failed" in its missions of preventing future wars and getting countries to cooperate on joint challenges.
The foreign ministers of G20 nations, the world's top economies, are meeting in India this week in anticipation of the G20, bringing together heads of state, set to take place in the country this summer. India took over hosting duties for the G20 from Indonesia.
Both India and Indonesia are facing the challenge of ensuring the G20 summit is at least in part productive in the shadow of Russia's ongoing invasion of Ukraine, which dominated the agenda in last year's meeting even as Putin rescinded his assurances to Indonesian President Joko Widodo that he would attend.
In his speech on Thursday, Modi urged the diplomats to look beyond the Ukraine invasion to topics such as the debts of poorer nations, "disaster relief," and enduring stable food supplies in their discussions.
By the end of the day, however, it appeared that the prod to discuss other topics had largely been ignored. According to Indian External Affairs Minister S. Jaishankar, disagreement over the Ukraine situation obstructed the possibility of the G20 diplomats signing on to a joint statement as traditionally occurs in the meetings. Also raising tensions at the summit is the increasingly volatile relationship between India and China, a result of Chinese People's Liberation Army (PLA) troops repeatedly violating India's sovereignty by attempting to establish an illegal presence on the Indian side of their joint border. Jaishankar lamented after speaking to Chinese Foreign Minister Qin Gang that the relationship remained "abnormal" with little progress towards resolution.
In his remarks, Modi did not mention tensions with China or Russia's invasion of Ukraine directly, but clearly condemned globalism's track record in the aftermath of World War II.
"The architecture of global governance created after the Second World War was to serve two functions. First, to prevent future wars by balancing competing interests. Second, to foster international cooperation on issues of common interests," Modi said. "The experience of the last few years – financial crisis, climate change, pandemic, terrorism, and wars – clearly shows that global governance has failed in both its mandates."
"We must also admit that the tragic consequences of this failure are being faced most of all by the developing countries," he continued. "This is why India's G20 Presidency has tried to give a voice to the Global South. No group can claim global leadership without listening to those most affected by its decisions."
Appearing to gently address Ukraine, Modi told the diplomats that, while "it is but natural that your discussions are affected by the geo-political tensions of the day," they should attempt to use the venue to discuss aiding "those who are not in this room," meaning poorer or undeveloped countries.
"The world looks upon the G20 to ease the challenges of growth, development, economic resilience, disaster resilience, financial stability, transnational crime, corruption, terrorism, and food and energy security," Modi said. "We should not allow issues that we cannot resolve together to come in the way of those we can."
A joint statement from the G20 member countries would have, presumably, addressed issues such as food and energy security and onerous debts – problems exacerbated by Russia's invasion of wheat producer Ukraine and China's "Belt and Road Initiative" (BRI) debt-trap program, for example. No such statement was drafted successfully, Jaishankar, the Indian top diplomat, explained, because of "issues concerning the Ukraine conflict."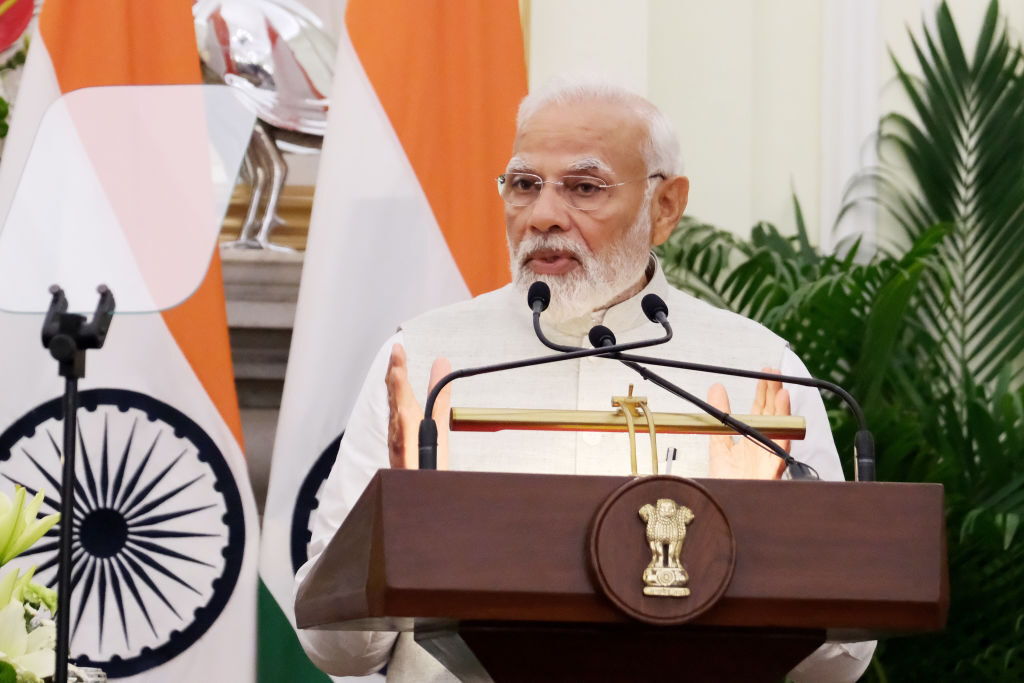 Narendra Modi, India's prime minister, during a news conference at Hyderabad House in New Delhi, India, on Thursday, March 2, 2023. (T. Narayan/Bloomberg via Getty)
Jaishankar reprimanded member countries for failing to come to agreements on the Ukraine situation, emphasizing that limiting Ukraine's ability to sell grain – or Russia's to sell chemical fertilizers, for that matter – affects nations with little political role to play in Eastern European territorial scuffles.
"India has been saying very strongly since a year [ago] that for much of the Global South, this is a make-or-break issue. The costs of fuel, food, and availability of fertilizer are extremely pressing issues," Jaishankar asserted. "For them, the knock-on effects of the Russia-Ukraine crisis are doubly damaging. This matter is of deep concern. That is why we have kept the focus of these meetings on the Global South and vulnerable countries."
The summit marked a breakthrough in that it represented the first time that Russian Foreign Minister Sergey Lavrov and American Secretary of State Antony Blinken had met in person since Russia launched a full-scale invasion of Ukraine in February 2022. Russian leader Vladimir Putin announced that month that, in defense of Ukraine's eastern Donbass region – which he would recognize as two sovereign states, then "annex" as part of Russia in September – Russia would launch a "special operation" to oust democratically elected Ukrainian President Volodymyr Zelensky, who he branded a "Nazi." Zelensky defied expectations and opted not to flee the country, urging every Ukrainian national to resist the full-scale invasion however possible.
Blinken and Lavrov met briefly for an unscheduled exchange on Thursday. Anonymous sources speaking to Indian media reported that Blinken used the opportunity to tell Lavrov that the administration of leftist President Joe Biden would persist in sending billions of dollars in military aid to Ukraine for "as long as it takes." The meeting did not yield any publicly known policy changes or plans to meet again.
The meeting between Jaishankar and Qin, the Chinese Foreign Minister, appeared to be equally fruitless. Jaishankar discussed it openly, describing the conversation as lasting about 45 minutes, "and the bulk of our conversation understandably was about the current state of our relationship."
Jaishankar said he told Qin that the relationship between China and India was "abnormal" due to China's repeated invasions of India and required significant repair, he said.
Follow Frances Martel on Facebook and Twitter.
Source: Breitbart