DC Correctional Officers Brutally Beat Jan. 6 US Capitol Protester, Zip-Tie His Hands, Fracture His Skull, Blind Him in One Eye
Ryan Samsel was leading the charge against Capitol Hill Police on January 6 protests.
Samsel pushed the flimsy bike racks and stormed the US Capitol. Samsel reportedly injured a female police officer.
Since his arrest, Ryan Samsel has been held in Washington DC. On March 21, he was awakened by correctional officers, his hands zip-tied, then walked to an unoccupied cell and brutally beaten by the officers. Then Ryan Samsel lost an eye in the beating.
This will not make any headlines.
Good morning. I'm starting Thread #16 of posts on new arrests at the Capitol riot and updates on continuing cases. The previous threads can be found below.https://t.co/sXdkjOoeUL

— Alan Feuer (@alanfeuer) April 2, 2021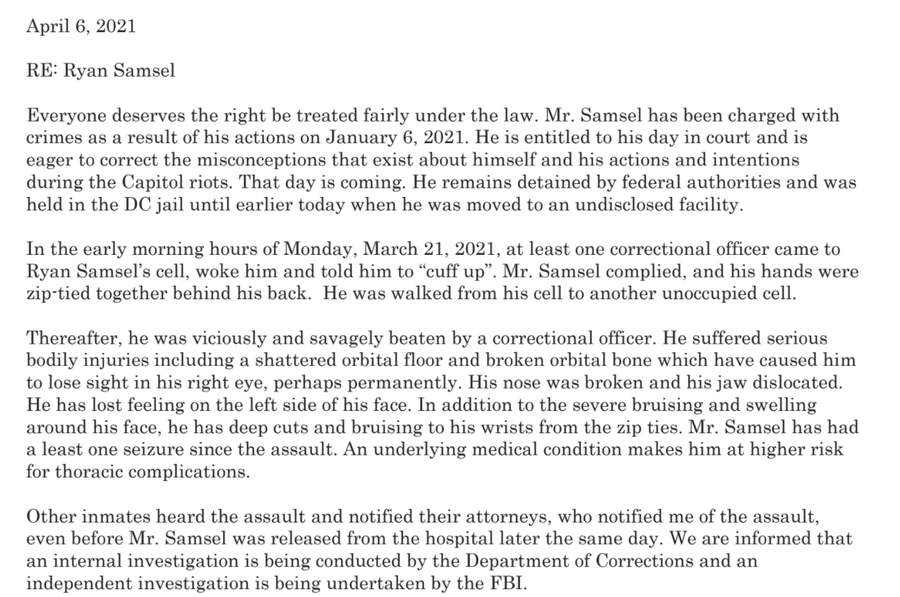 Politico reported:
For weeks, Capitol riot defendants being held in Washington have complained that they are locked in their cells with virtually no human contact for 23 hours a day. But a startling, graphic account offered publicly in court on Tuesday by one such inmate, Ronald Sandlin, went further: alleging that guards have subjected those charged in the Jan. 6 events to violence, threats and verbal harassment.
"Myself and others involved in the Jan. 6 incident are scared for their lives, not from each other but from correctional officers," Sandlin said during a bail hearing conducted by video before U.S. District Court Judge Dabney Friedrich. "I don't understand how this is remotely acceptable," he added, saying he was being subjected to "mental torture."
In an unusual direct plea to the judge, Sandlin said another Capitol riot defendant, Ryan Samsel, "was severely beaten by correctional officers, [is now] blind in one eye, has a skull fracture and detached retina."
Source: Gateway Pundit