Are Mask Mandates Coming Back? Biden DOJ Argues to Bring Back Policy in Court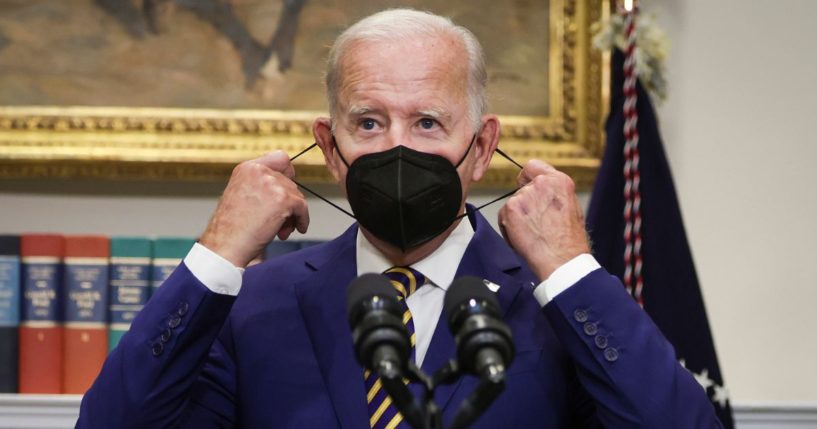 The Biden administration on Tuesday argued that the federal Centers for Disease Control and Prevention should have the authority to issue an immediate mask mandate on travelers.
The Department of Justice had appealed a federal judge's ruling in April that said the CDC did not have the legal authority to issue a mask mandate, according to Reuters.
Noting that the crux of the issue was whether the CDC could impose the mandate without a public comment period, Justice Department attorney Brian Springer said action without waiting to hear from the public was essential "to prevent the possible infections and deaths that could result if people didn't do the simple thing of just putting on a mask while they were traveling."
"In those circumstances, the CDC had good cause to issue this order, particularly when the CDC detailed the reasons why in this particular environment, namely in the transportation sector and in transportation settings, COVID had a specific tendency to spread among people who are traveling together because they're standing together in lines and sitting together on conveyances," Springer said, according to the Epoch Times.
Lawyer Brant C. Hadaway representing five people who challenged the mandate, opposed that claim, according to Reuters.
"This is not about an urgent matter of public health," Hadaway said in court.
Republican lawmakers said the mandate should not return.
WHY is the Biden administration arguing in federal court to FORCE masks back on to every commercial flight? This administration is completely out of touch with reality. Masks on planes do NOTHING! Totally useless!!
— Ronny Jackson (@RonnyJacksonTX) January 17, 2023
Joe Biden has said that the pandemic is over.
Yet his administration is still arguing in court to reinstate the mask mandate.
— Sen. Marsha Blackburn (@MarshaBlackburn) January 17, 2023
If you want to wear a mask on a plane, no one's stopping you. But we're not going back to mandates. Period. https://t.co/xXOtjpppnz

— Rep. Brian Mast (@RepBrianMast) January 17, 2023
In a comment reported by the Washington Examiner, an attorney for the Health Freedom Defense Fund said, "This appeal is not about an urgent matter of public health. If the mask order had been such an urgent matter of public health, you would have expected CDC to have applied for a stay to the district court's ruling."
"CDC promulgated a rule of unprecedented scope. And for the first time claiming authority to directly govern the lives of every member of the traveling public without bothering to explain its statutory authority," the attorney said.