U.N. Chief Guterres Warns of Mass Climate Exodus on a 'Biblical' Scale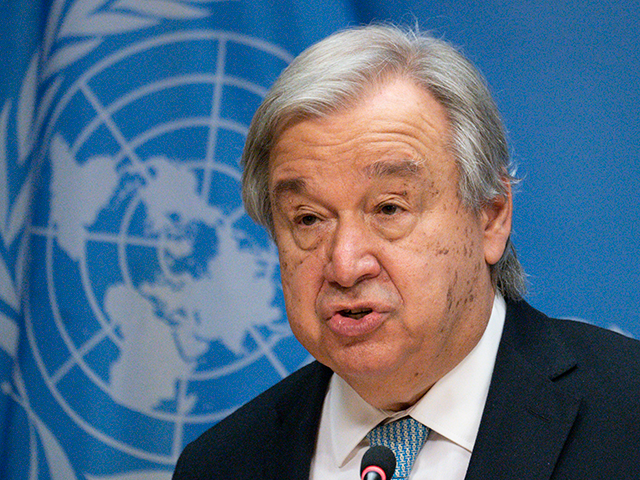 ROME — U.N. Secretary-General António Guterres offered his apocalyptic view of the coming climate catastrophe Tuesday, warning the Security Council that rising seas threaten the very existence of "entire countries."
In his doomsday address, the U.N.'s alarmist-in-chief declared that the danger "is especially acute for nearly 900 million people who live in coastal zones at low elevations — that's one out of ten people on Earth."
"Low-lying communities and entire countries could disappear forever," Guterres asserted. "We would witness a mass exodus of entire populations on a biblical scale."
"Rising seas are sinking futures," Guterres intoned with hyperbolic flourish. "Sea-level rise is not only a threat in itself. It is a threat-multiplier."
RESET: Nature is determined to destroy humanity through flood, famine, fire, and pestilence, U.N. Secretary-General Guterres declared Wednesday, prophesizing the time has come for us to repent and mend our ways through a great climate and economic "reset." https://t.co/sZUDhH7YT8

— Breitbart News (@BreitbartNews) December 4, 2020
"For the hundreds of millions of people living in small island developing states and other low-lying coastal areas around the world, sea-level rise is a torrent of trouble," he added.
"Rising seas threaten lives, and jeopardize access to water, food and healthcare," he insisted.
"Under any scenario," Guterres said, descending to specifics, "countries like Bangladesh, China, India and the Netherlands are all at risk."
"Mega-cities on every continent will face serious impacts including Lagos, Maputo, Bangkok, Dhaka, Jakarta, Mumbai, Shanghai, Copenhagen, London, Los Angeles, New York, Buenos Aires and Santiago," he stated.
The Portuguese socialist's climate rhetoric has become more heated of late, claiming last year that by ignoring climate change humanity would be committing "collective suicide" — a problem that can only be averted by breaking the global "addiction" to fossil fuels.
Last month, Guterres contended that "renewables are the only credible path" to stem the climate catastrophe.
Only renewables "can safeguard our future, close the energy access gap, stabilize prices and ensure energy security," he argued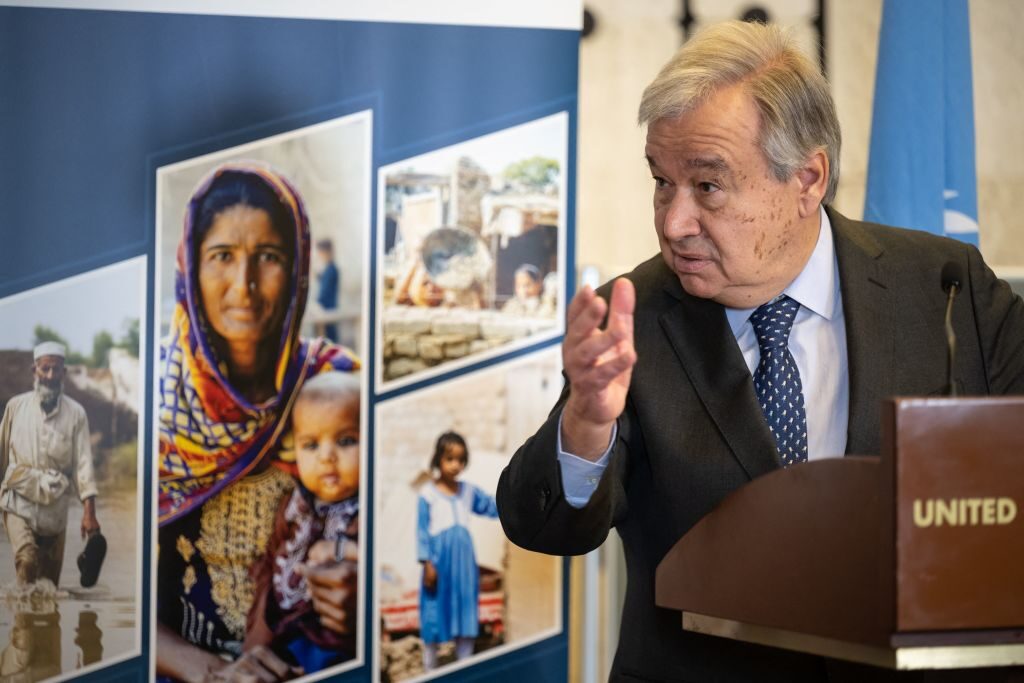 UN Secretary-General Antonio Guterres gestures during a statement on Pakistan's Resilience to Climate Change conference in Geneva on January 9, 2023. He called for "massive investments" to help Pakistan recover from last year's devastating floods, saying the country was "doubly victimised" by climate change and a "morally bankrupt global financial system". (FABRICE COFFRINI/AFP via Getty Images)
"I'm very frustrated that global leaders are still not giving the climate emergency the action and investment it requires," Guterres declared on January 11.
"Words are not enough. Without climate action, climate catastrophe is coming for all of us," he stressed.
"We must all work to continue turning up the volume on this critical issue, and supporting the lives, livelihoods and communities of people living on the front lines of this crisis," Guterres said Tuesday.
If turning up the volume is what is called for, the U.N. Secretary General is practicing what he preaches.
Source: Breitbart