Brazil: 'Fake News' Crusader Judge Orders Arrest of Ex-Bolsonaro Justice Minister over Riot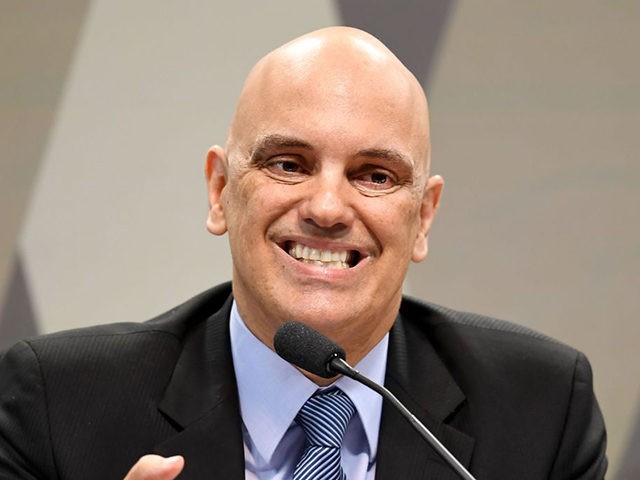 Brazilian Supreme Federal Tribunal (STF) Minister (judge) Alexandre de Moraes issued an arrest warrant on Tuesday for Anderson Torres, the man in charge of public security in Brasilia during Sunday's riot and a former minister of justice under conservative President Jair Bolsonaro.
Ricardo Cappelli, a journalist socialist President Luiz Inácio Lula da Silva placed in charge of security in Brasilia following the riot, accused Torres of "sabotage" in an interview with the newspaper O Globo published on Tuesday and insisted that the riot could not have occurred without top officials deliberately weakening security protocol to allow protesters to storm the headquarters of the three branches of government.
He used the example of Lula's inauguration on January 1, which occurred without incident, as proof that security protocol had the ability to prevent any violence but shockingly did not act to do so this weekend.
Thousands of opponents of Lula stormed the buildings housing Brazil's Congress, STF (the supreme court), and office of the presidency on Sunday, destroying the outside facades of the Congress and STF and vandalizing priceless historical artifacts inside.
Videos shared by rioters on social media as the riot was happening showed people tearing apart the seats in the STF's chambers, ripping doors out and parading them as trophies, and destroying historic busts, portraits, and tapestries.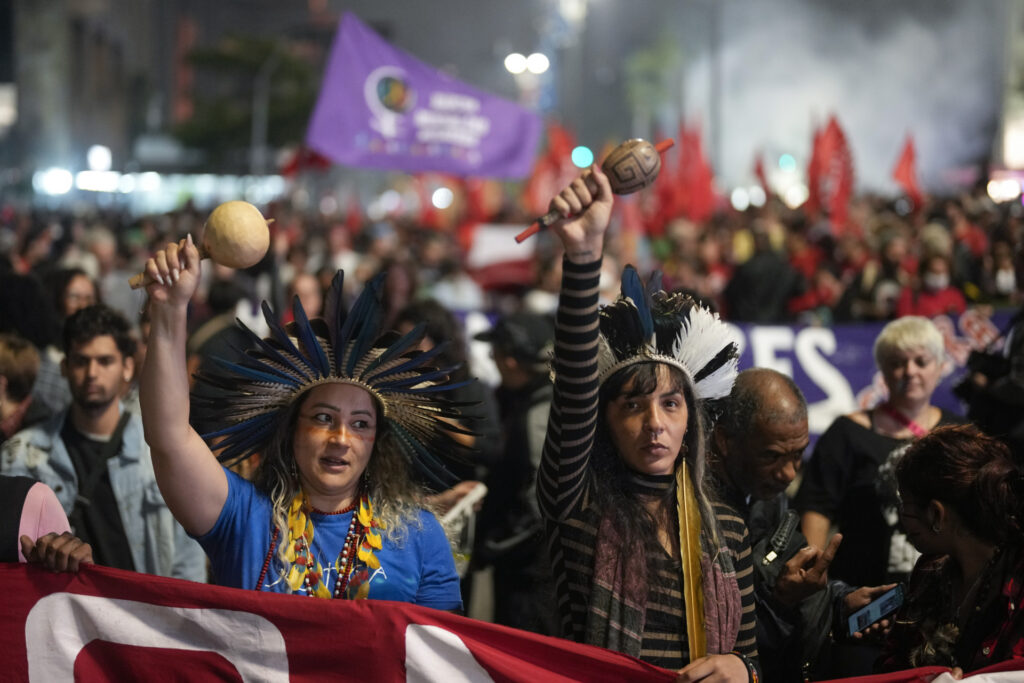 Guarani Indigenous women protest calling for protection of the nation's democracy in Sao Paulo, Brazil, Monday, Jan. 9, 2023, a day after supporters of former President Jair Bolsonaro stormed government buildings in the capital. (AP Photo/Andre Penner)
Lula is a convicted felon who presided over a hardline leftist presidential administration between 2003 and 2011. He was sentenced to nearly 25 years in prison on multiple appeals for taking bribes during his presidency. Lula was allowed to run against Bolsonaro in the 2022 election thanks to the STF using a procedural argument to overturn his corruption sentence, a decision de Moraes was critical in bringing about.
Prior to voting to free Lula and restore his political career, de Moraes (pictured) was best known for presiding over an operation against alleged "fake news" in the STF marked by violent police raids against comedians, Youtube streamers, and other civilians for publicly supporting Bolsonaro. In one particularly prominent case, de Moraes ordered the arrest of a Congressman, Daniel Silveira, for insulting the STF in a Youtube video. The STF sentenced Silveira to eight years in prison over the matter, but Bolsonaro pardoned him on free speech grounds.
As the head of the Superior Electoral Tribunal (TSE), an STF offshoot that administers elections, de Moraes banned media outlets from mentioning Lula's corruption convictions while allowing Lula to refer to Bolsonaro as a "pedophile."
De Moraes' prominent censorship position has made him a target of particular ire for the pro-Bolsonaro Brazilian right. During the riot on Sunday, some protesters filmed at least one individual appearing to defecate in de Moraes' office. Another man reportedly stole his judicial robes; a third stole the door leading to his office.
🇧🇷AHORA: Una foto tomada a la puerta del Ministro Alexandre De Morales, arrancada de su oficina OMG #Brasile #BREAKING pic.twitter.com/Zn9IDCeCM8

— Markito Shango (@MarkitoShango) January 8, 2023
The top judge issued a decision on Tuesday ordering the arrests of Torres and the former head of the military police in Brasilia, Fábio Augusto Vieira, at the request of prosecutors on the grounds that the riot on Sunday could not have happened, de Moraes argued, without either "the participation or willful omission" of those identified in the warrant.
"The negligence and connivance of … Anderson Torres, regarding any planning that would guarantee security and order in the Federal District [Brasilia]," de Moraes wrote, "was only not more blatant than the intentionally omissive conduct of the governor of the DF, Ibaneis Rocha."
De Moraes single-handedly deposed Rocha, undoing his democratic election for 90 days, as one of his first acts following the riot. Rocha has since apologized for not preventing the riot and fired Torres from his job prior to being stripped of power. Lula ordered a "federal intervention" of Brasilia on Sunday, as well, which usurps the power belonging to the governorship and gives it to a hand-picked czar now in charge of public security – Cappelli, a career journalist.
The STF judge said in his order on Tuesday that he saw "strong indications that the conduct of the criminal terrorists [protesters] could only occur through the participation of willful omission" of government officials.
Speaking to O Globo, Cappelli, the security czar, firmly backed de Moraes's contention that government involvement, or at least negligence, was necessary for the riot to occur. Cappelli referred to the alleged cooperation as "sabotage."
Cappelli said that Anderson Torres took over public security in Brasilia, exonerated a series of people from the secretariat and traveled," leaving the agency in charge of security "headless" during the riot. Cappelli also said that documentation indicates that Torres had planned to take a vacation on January 9, but was out of the country already by the time of the riot, January 8.
"In my opinion, there are strong indications of sabotage on the part of Anderson Torres as one of the principle [people] responsible for what happened on Sunday," Cappelli said.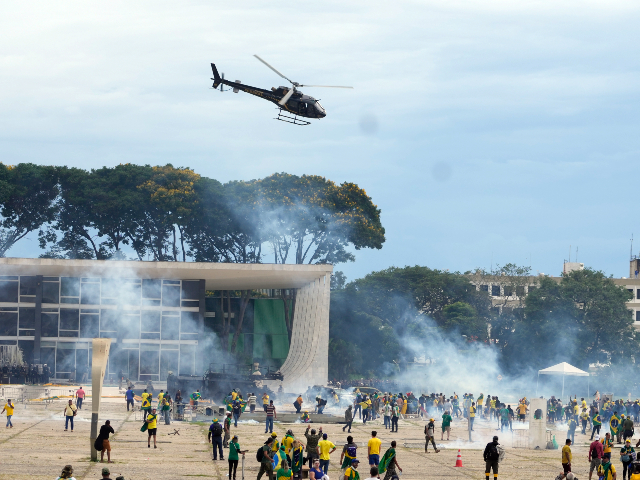 Protesters, supporters of Brazil's former President Jair Bolsonaro, clash with police as they storm the Planalto Palace in Brasilia, Brazil, Sunday, Jan. 8, 2023. Planalto is the official workplace of the president of Brazil. (AP Photo/Eraldo Peres)
Cappelli compared the riot on January 8 to Lula's inauguration on January 1, which occurred without incident.
"I spoke with the chief of staff of the previous secretary and he told me that, for the operation on the first, they spent nights and nights inside this room making plans, checking, going, coming back," Cappelli told O Globo. "What was the plan for the 8th? The secretary was not even here and dismissed the command of the secretariat. There was a dismantling of the command of the secretariat. Did the secretary travel by chance? Are these actions coincidence? I don't think so."
"I've seen a demonstration of 50,000 people who didn't even manage to approach the National Congress," he continued. "So 5,000 people did all that? [the riot]," he asked. "It is something that is not even reasonable. It would not happen without the connivance of the secretary. If there was firm command, this would not happen."
Cappelli also deflected blame from Lula's presidency, which is responsible for the entirety of the Brazilian government, stating, "we had trusted [security officials] a week ago [for the inauguration] and it worked."
"The operation on the 1st was a huge success, commanded by the DF government in partnership with the federal government," he said. That operation occurred during the last hours of the Bolsonaro presidency. Torres was not in charge yet of security in Brasilia.
Torres is reportedly in Florida currently and responded to the warrant by vowing to return to Brazil soon and turn himself in.
"Today [January 10], I received news that Min. Alexandre de Moraes of the STF ordered my arrest and authorized a search of my residence," Torres wrote in a statement on Twitter. "I made the decision to interrupt my vacation and return to Brazil. I will present myself to justice and take care of my defense."
"I have always based my actions on ethics and legality. I believe in Brazilian justice and in the strength of institutions. I am certain that the truth will prevail," he concluded.
Hoje (10/01), recebi notícia de que o Min Alexandre de Moraes do STF determinou minha prisão e autorizou busca em minha residência. Tomei a decisão de interromper minhas férias e retornar ao Brasil. Irei me apresentar à justiça e cuidar da minha defesa.

— Anderson Torres (@andersongtorres) January 10, 2023
Vieira, the other official who de Moraes ordered into police custody, has reportedly been arrested.
Vieira joined over 1,500 people arrested since Sunday, several hundreds at the site of the riot, but the majority arrested in and around protest campsites erected by Bolsonaro supporters following the October presidential election. By Tuesday, hundreds of those arrested had been released on the grounds of being elderly, mothers, homeless people, or suffering from health problems.
Lula has encouraged the legal persecution of government officials and law enforcement officers in the aftermath of the riot. In his first remarks on Sunday, Lula accused police officers of acting in "bad faith" and "guiding people" towards the National Congress.
Many legal experts expect Bolsonaro to also face legal repercussions over the riot, despite him not being in Brazil when it occurred. Bolsonaro is currently in the Orlando, Florida, area, and was hospitalized early this week for complications arising from a 2018 assassination attempt. Bolsonaro promised to return to Brazil and face justice in an interview with CNN Brasil.
Prosecutors asked the Federal Accounts Court to freeze his personal assets on Tuesday and he is believed to be facing dozens of lawsuits accusing him of various criminal acts throughout his term in office. Bolsonaro denies all wrongdoing.
Source: Breitbart